The JTrain Podcast with Jared Freid
No events have been scheduled for this comedian.

Join our club and we'll notify you when shows are coming up.
Artist's Website
Video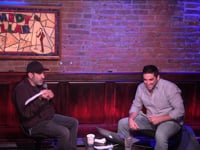 The JTrain Podcast with Jared Freid
Live Podcast Recording Show!

Jared Freid is a NYC based comedian, who's comedy is current and reflects the ordinary daily thoughts of everyone you know, especially if everyone you know is a millennial. Jared had the honor of performing at the 2017 "New Faces" showcase at the 35th annual Just For Laughs festival in Montreal.

Recently, Jared was featured on MTV2's new series Vidiots, as well as TruTV's NFL Full Contact, MTV's Failosophy, NBC's The Today Show, NFL Network's Top Ten, and AXS TV's Gotham Comedy Live. Jared's fans also seek out his voice in the online publishing world. He's written for TotalFratMove, BroBible, and HeTexted. His columns delve into everything from sports to "The Bachelor" to the pitfalls of dating in the information age.

Jared's weekly podcast, The JTrain Podcast, is booming and now touring live around the country. The JTrain Podcast has over 427,000 subscribers, regularly in the iTunes top 100, and has a cult following of loyal fans. It has been called "A Dear Abbey for Dudes." Freid also co-hosts a modern dating podcast, called U Up?, with Jordana Abraham of Betches, where they discuss their take on modern dating with issues ranging from apps to hookups to relationships.


Please review our ticket resale policy.